Bio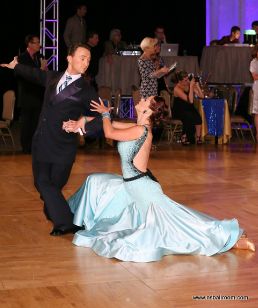 Nathan Simler is a Gold-Certified Professional Dance Teacher and retired as a professional competitor in 2015 after a successful career in the Professional American Smooth division.
His most notable placement was 3-time finalist in the Professional Nine Dance Division at the United States National Dancesport Championships (USDC). Nine dance includes both Smooth (Waltz, Tango, Foxtrot, Viennese Waltz) and Rhythm (Cha Cha, Rumba, East Coast Swing, Bolero, and Mambo) dances.

His other accomplishments include: Finalist at the Ohio Star Ball for Professional Rising Star Smooth; Eastern United States Professional Rising Star Smooth Champion; Seattle Star Ball Open Professional Smooth Champion 3 years in a row, undefeated.
Nathan's main passion is teaching dance, although he is passionate about music as well.


Drawn to the arts at a young age, he studied Classical Guitar as a music major. In his early twenties he made the switch to Ballroom Dance. Now a seasoned teacher and competitor,
Nathan is called for coaching/teaching/performing jobs throughout the United States and Carribean.
Nathan's students reap the rewards from his years of study, which
allow him distinctive insights into the innate relationship between music and dance.
In the pro/am division, Nathan's students have earned top awards at all major competitions in the United States. Nathan is also a Regional Examiner for DVIDA, allowing him to medal test students and certify dance professionals.

When not teaching or dancing, Nathan loves spending time with his wife and two beagles, home improvement, and is an avid reader . . . He even makes a pretty good pie!
Nathan is available for lessons in Bellingham regularly and in Seattle occasionally by appointment.

He is also available to travel to coach students and teachers at your studio.
For more information, contact Nathan
(360) 224-3986
nathan@nathansimlerballroom.com